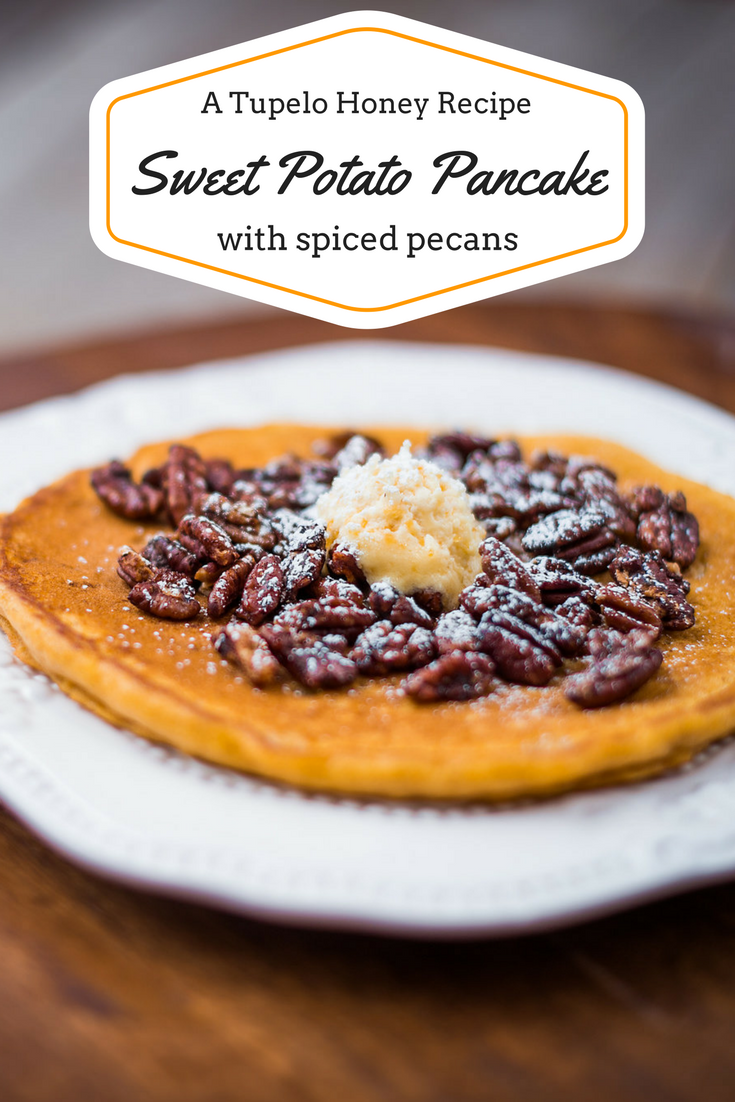 Our sweet potato pancake is one of our most requested recipes and a Tupelo Honey staple. It was also featured by Rachael Ray on the Food Network! As you know, the sweet potato is pretty revered in our mountains (and at Tupelo Honey), so the idea of turning this vitamin-packed vegetable into breakfast is ingenious. The result is a pancake that has a hint of cinnamon and nutmeg but the warm character of the spud it praises. Serve these with a side of your favorite bacon.
Sweet Potato Pancakes Recipe
Ingredients:
1 large sweet potato
2 & 3/4 cups all-purpose flour
1 tsp. salt
5 Tbsp. plus 1.5 tsp. sugar
3/4 tsp. baking soda
1.5 tsp. baking powder
3 cups buttermilk
3 eggs
2 Tbsp. unsalted butter, melted
2 Tbsp. tupelo honey
1 tsp. cinnamon
1/2 tsp. nutmeg
Spiced Pecans (recipe below)
Directions:
1. Wrap the sweet potato in foil and bake in a 350°F oven for about 45 minutes, or until tender. Set aside to cool to room temperature.
2. In a large bowl, combine the flour, salt, sugar, baking soda, and baking powder. In another large bowl, whisk together the buttermilk, eggs, and melted butter. Add the wet mixture to the dry mixture.
3. Peel the cooled sweet potato, place in a medium bowl, and mash. Add the honey, cinnamon, and nutmeg and mix well.
4. Add the sweet potato mixture to the pancake batter, combining well, and let the batter stand for 1 hour.
5. Heat a skillet over medium heat and ladle the batter in batches, 1/3 cup at a time, cooking the pancakes until browned on each side. Serve with the spiced pecans.
*Makes 4 servings.
Spiced Pecans Recipe
Ingredients:
1.5 tsp. tupelo honey
1/4 tsp. cayenne pepper
1/4 tsp. sea salt
1.5 tsp. unsalted butter
1 cup chopped pecans
Directions:
In a bowl, mix the honey, cayenne and salt. Melt the butter in a skillet over medium heat. Add the honey mixture and the pecans and cook for 8 to 10 minutes, until lightly browned and caramelized. Remove from the heat, cool, and store in an airtight container.
*Makes 1 cup.
Want the reward without the effort? Leave it to us! Make a reservation or come on in to the Tupelo Honey nearest you.