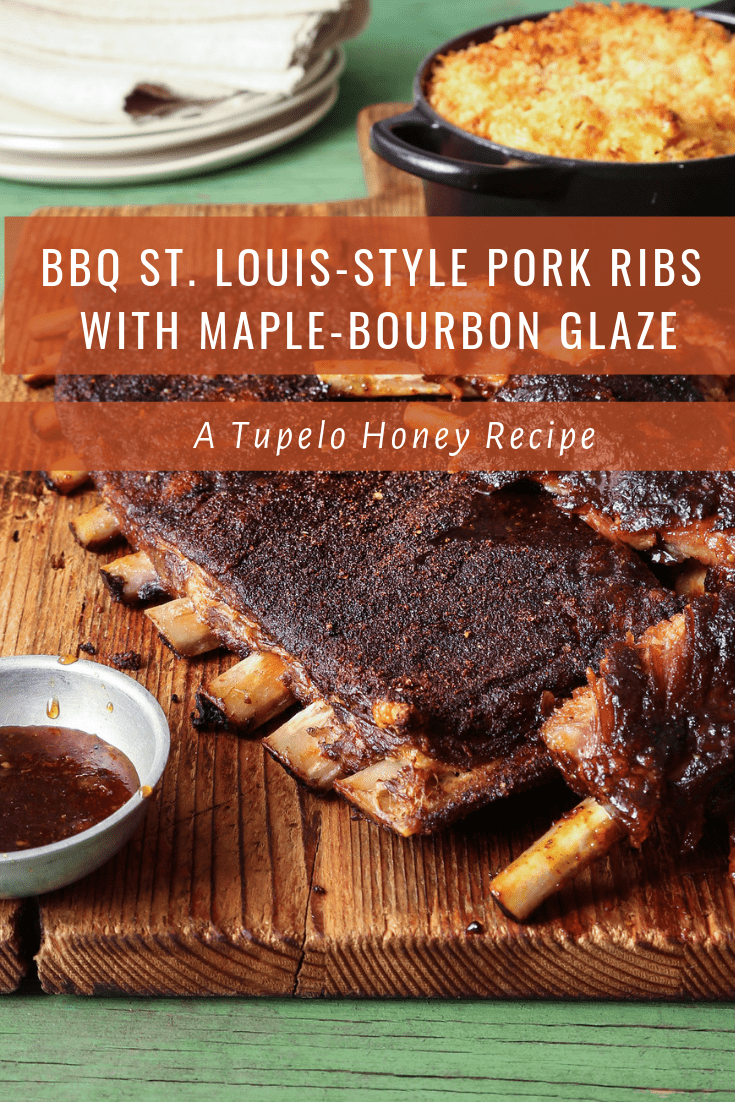 Ingredients
1 (2.5 pound) rack of pork ribs
1/4 cup BBQ Rib Rub (recipe follows)
1 cup Maple-Bourbon Glaze (recipe follows)
BBQ Rib Rub
Makes 2.5 Cups
Ingredients
1/4 cup sugar
1/2 cup paprika
1/2 cup chili powder
1/2 cup loosely packed light brown sugar
1/2 cup kosher salt
1/4 cup freshly ground black pepper
1 tablespoon garlic powder
1 tablespoon onion powder
1 tablespoon dry mustard
1 tablespoon ground coriander
1 tablespoon ground cumin
1 tablespoon ground white pepper
1 teaspoon cayenne
Maple-Bourbon Glaze
Makes 3 Cups
Ingredients
2 cups maple syrup
6 tablespoons freshly squeezed orange juice
6 tablespoons ketchup
1/4 cup soy sauce
2 tablespoons Worcestershire sauce
1 tablespoon Dijon mustard
1 tablespoon whole-grain mustard
1 tablespoon cayenne
1.5 teaspoons curry powder
1/4 cup bourbon of choice
Barbecued St. Louis-Style Pork Ribs
A maple-bourbon glaze ratchets up the sultriness of these pork ribs and make them great food companions for a New Orleans Jazz Festival celebration buffet. Serve with our Corn Jalapeno Lime Slaw!
Makes 2.5 pounds or 12 ribs
KEEP READING
Directions
To make the ribs, preheat the oven to 350°F. Starting at the large end of the rack, slice the ribs from the rack in portions of 3 ribs (the last portion may contain four) with a cut evenly between the bones.
Rub each rib portion on both sides with 1 tablespoon of BBQ Rib Rub, 1/2 tablespoon per side. Place the seasoned ribs, meat side up, in a large baking dish and cover with aluminum foil. Place the pan in the oven and cook for 2 hours.
While the ribs are cooking, make the glaze.
When done, remove the pan from the oven, and place the ribs on a cutting board. (At this point they should be fork tender.) Cut the ribs into individual portions and toss in a bowl with 1 cup of the glaze to coat. If you want to serve as an entree, leave the ribs portioned as they come out of the oven from the initial cooking process, and toss to coat in the glaze.
The ribs can now either be grilled or placed back in the oven to finish. Grill for 3 to 4 minutes on a medium-high heat, meat side down. Or bake for 3 to 4 minutes meat side up.
BBQ Rib Rub
Makes 2.5 Cups
Directions
To make the rub, mix all the ingredients together in a bowl using a fork or whisk. Use immediately or store in an airtight container for up to 2 months.
Maple-Bourbon Glaze
Makes 3 Cups
Directions
To make the glaze, combine all the ingredients except the bourbon in a saucepan over medium-high heat and bring to a boil. Decrease the heat to a simmer and add the bourbon. Simmer for 20 minutes, then remove from the heat. The glaze may be used immediately or stored in the refrigerator for up to 1 week.
Want the reward without the effort? Make a reservation to visit your favorite Tupelo Honey location!