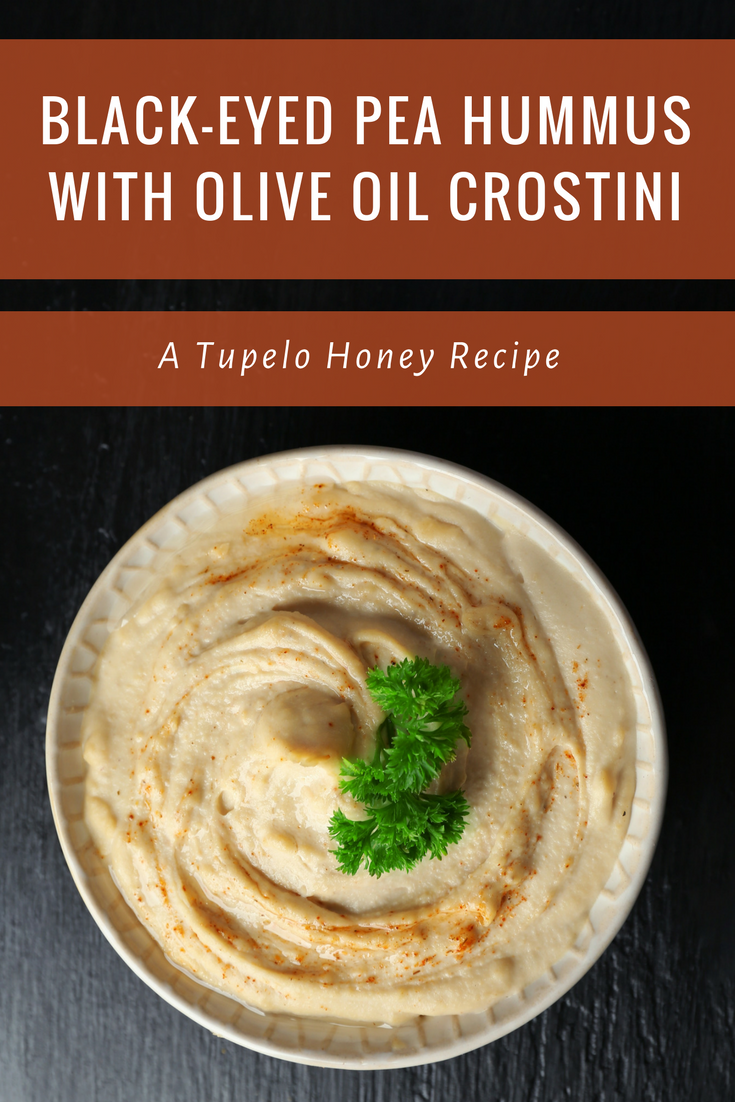 Olive Oil Crostini
Makes 24 Pieces
Ingredients
1 (16-inch) baguette
1/2 cup olive oil
1 clove garlic, chopped
1/2 teaspoon salt
1/2 teaspoon freshly ground black pepper
Black-Eyed Pea Hummus
Makes 2 Cups
Ingredients
1 (15-ounce) can black-eyed peas, including liquid
2 tablespoons tahini
2 tablespoons freshly squeezed lemon juice
1 tablespoon chopped chives
2 tablespoons chopped parsley, divided
1 tablespoon chopped tarragon
1/2 teaspoon chopped garlic
1 tablespoon warm water
4 tablespoons extra-virgin olive oil
Salt and freshly ground black pepper
Olive Oil Crostini, for serving (recipe follows)
Black-Eyed Pea Hummus Recipe
This is a Southern twist on Mediterranean hummus, which is usually made with tahini and chickpeas. We substitute black-eyed peas for what we think is a little more soulful version and add a touch of sweet tarragon to heighten the dish.
KEEP READING
Black-Eyed Pea Hummus
Directions
Place the black-eyed peas, tahini, lemon juice, chives, 1 tablespoon of parsley, tarragon, and garlic in a food processor. Pulse until the mixture is finely chopped and cohesive throughout.
With the food processor running, drizzle in the warm water and oil until emulsified. Season with salt and pepper to taste. Transfer to a bowl or serving dish and garnish with the remaining tablespoon of chopped parsley. Serve with crostini.
Olive Oil Crostini
Directions
Preheat the oven to 400°F. Cut the baguette into twenty-four quarter inch slices. Place the baguette slices on a rimmed sheet pan. In a bowl, mix together the olive oil and garlic. Brush or drizzle the garlic oil onto the baguette slices. Sprinkle each slice with salt and pepper and place in the oven for 8 to 10 minutes, until lightly browned. Remove from the oven, set aside, and cool. Store in an airtight container if you are not using them immediately. Will keep up to 1 day, but best used the day made.
Want the reward without the effort? Make a reservation at one of our Southern restaurant locations!