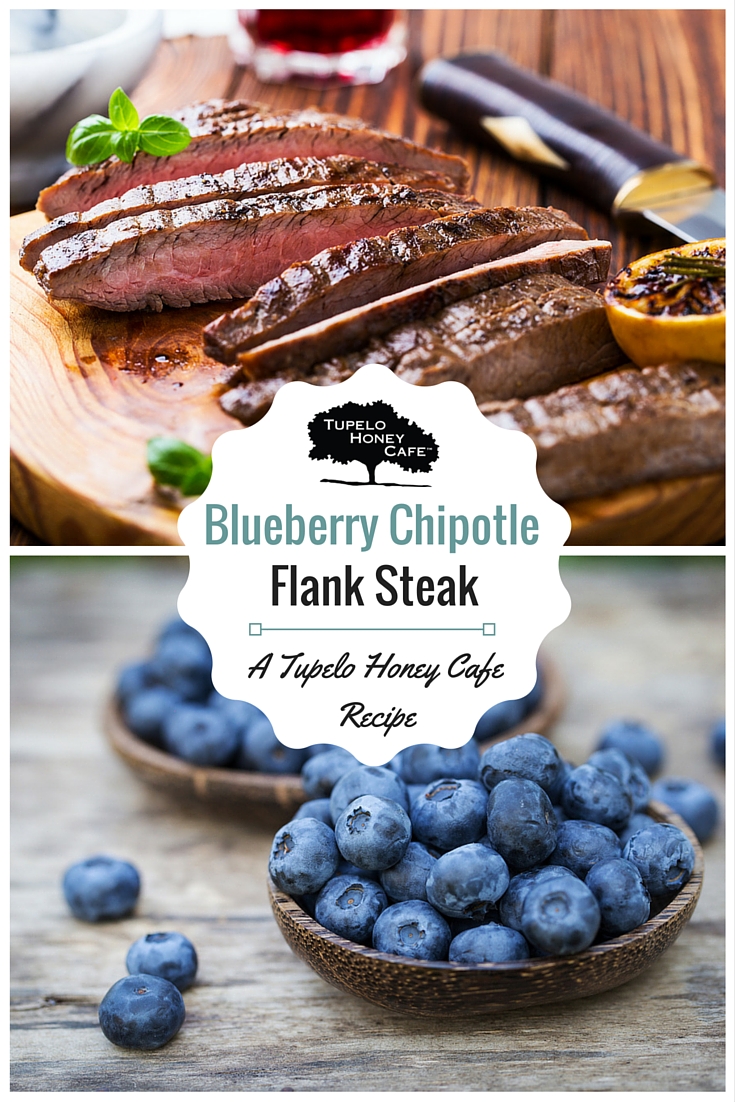 Ingredients:
2 (3.5 oz.) cans chipotle peppers in adobo
3/4 cup blueberry jam
1/2 cup cider vinegar
2 tablespoons olive oil
1/4 cup tupelo honey
2 tablespoons molasses
1 teaspoon salt
1 (2 lb.) flank steak
Blueberry Chipotle Glaze (recipe below)
*Makes 4-6 servings.
Blueberry Chipotle Glaze Recipe
Ingredients:
2 cups reserved blueberry chipotle marinade (see above)
1/2 cup apple juice
1 tablespoon all-purpose flour
1 tablespoon milk
Blueberry Chipotle Flank Steak Recipe
With blueberries in season, this recipe is perfect for a grill-out with friends on a summery Saturday night. These bold flavors – fruity berries as a foil to fiery peppers – will be your go-to when you're wanting to fire up the grill.
KEEP READING
Directions:
Combine the peppers, jam, vinegar, olive oil, honey, molasses, and salt in a bowl and combine well. Pour the marinade into a sealable plastic bag and add the flank steak. Seal and marinate in the refrigerator for 48 hours, turning occasionally.
Remove the steak from the bag (reserving the marinade for the glaze) and grill over medium-high heat for 10 minutes per side for medium rare. Slice across the grain and drizzle with the Blueberry Chipotle Glaze.
Blueberry Chipotle Glaze Recipe
Directions:
Combine the marinade and apple juice in a small pot and bring to a boil. In a small bowl, whisk the flour and milk together and whisk this mixture into the hot glaze. Simmer for 10 minutes, stirring frequently. Drizzle over the flank steak.
*Makes 2.5 cups.
Not in the mood to grill tonight? Stop in or make a reservation to dine at the Tupelo Honey nearest you to try our other grill-friendly favorites!