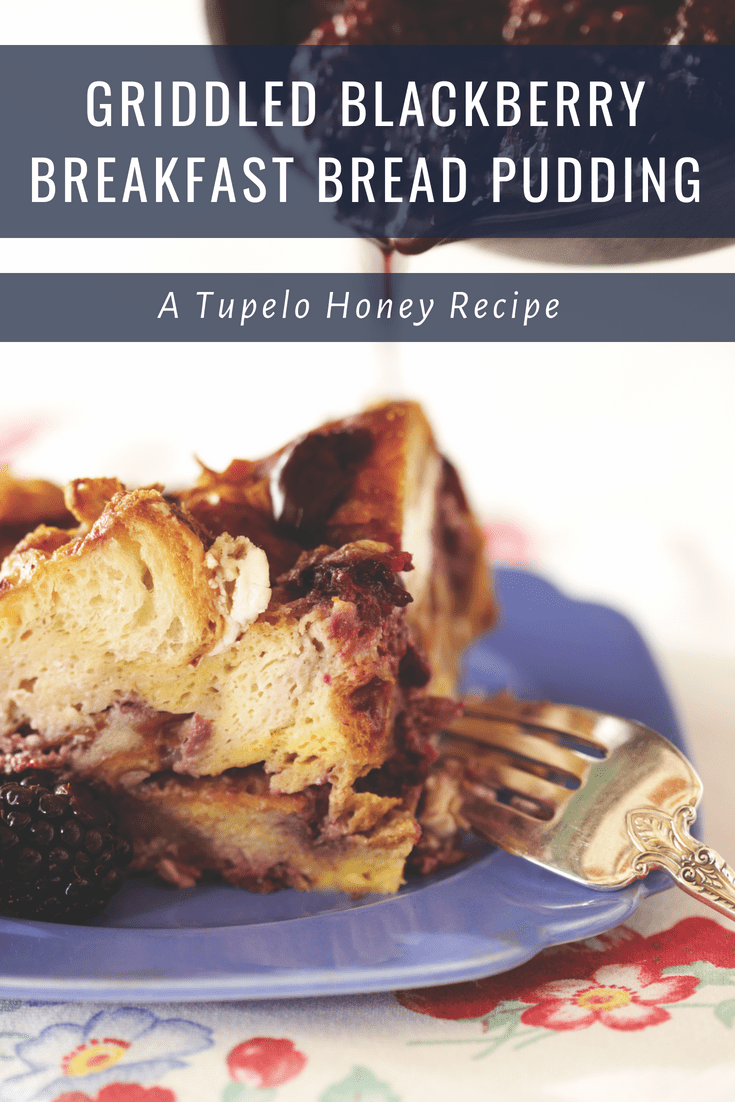 Blackberry Bread Pudding
Makes 8 to 10 servings
INGREDIENTS
6 eggs
1 cup heavy cream
3/4 cup half-and-half
1/3 cup firmly packed brown sugar
1/2 cup granulated sugar
2 teaspoons ground nutmeg
1 teaspoon ground cinnamon
1 tablespoon vanilla extract
1 loaf challah bread, cut into 2-inch cubes
2 1/2 cups fresh blackberries (about 1 pound)
8 oz. cream cheese, cubed
1 tablespoon butter
Blackberry Skillet Jam
Makes about 3 cups
INGREDIENTS
1 cup sugar
4 teaspoons pectin
4 cups fresh blackberries (about 1 1/2 pounds)
4 teaspoons freshly squeezed lemon juice
Griddled Blackberry Breakfast Bread Pudding
Blackberries are abundant in the mountains during the summertime, and this breakfast bread pudding is reason enough to venture out with a bucket and pick them. Set up brunch on the porch with a mimosa in hand and call it a good morning!
KEEP READING
Blackberry Bread Pudding
Makes 8 to 10 servings
DIRECTIONS
Preheat the oven to 325°F and butter a 6 by 12-inch casserole dish 4 inches deep. In a large bowl, combine the eggs, cream, half-and-half, brown sugar, granulated sugar, nutmeg, cinnamon, and vanilla and whisk until thoroughly blended. Add the bread cubes, blackberries, and cream cheese and combine with your hands until well mixed. Cover with foil and bake for about 1 hour, or until firm, then remove the foil and bake for 10 to 15 minutes longer, until the top browns. Remove from the oven, cool, and refrigerate overnight.
When ready to prepare the pudding, remove the set mixture from the casserole dish, and cut into 2-inch-thick slices. Melt the butter in a skillet over medium-high heat and brown the slices on both sides for 3 to 4 minutes on each side, until golden brown and hot all the way through. Serve with the jam.
Blackberry Skillet Jam
Makes about 3 cups
DIRECTIONS
Combine the sugar and pectin in a medium bowl and mix thoroughly. Put the berries in a heavy saucepan or skillet and add the sugar mixture. Add the lemon juice and put on high heat until simmering. Reduce the heat to medium and continue to simmer, stirring occasionally, for about 10 minutes, or until the mixture coats the back of a spoon. Refrigerate for up to 2 weeks.
Want to brunch, but don't feel like cooking so early? Stop in or make a reservation to dine at the Tupelo Honey nearest you!