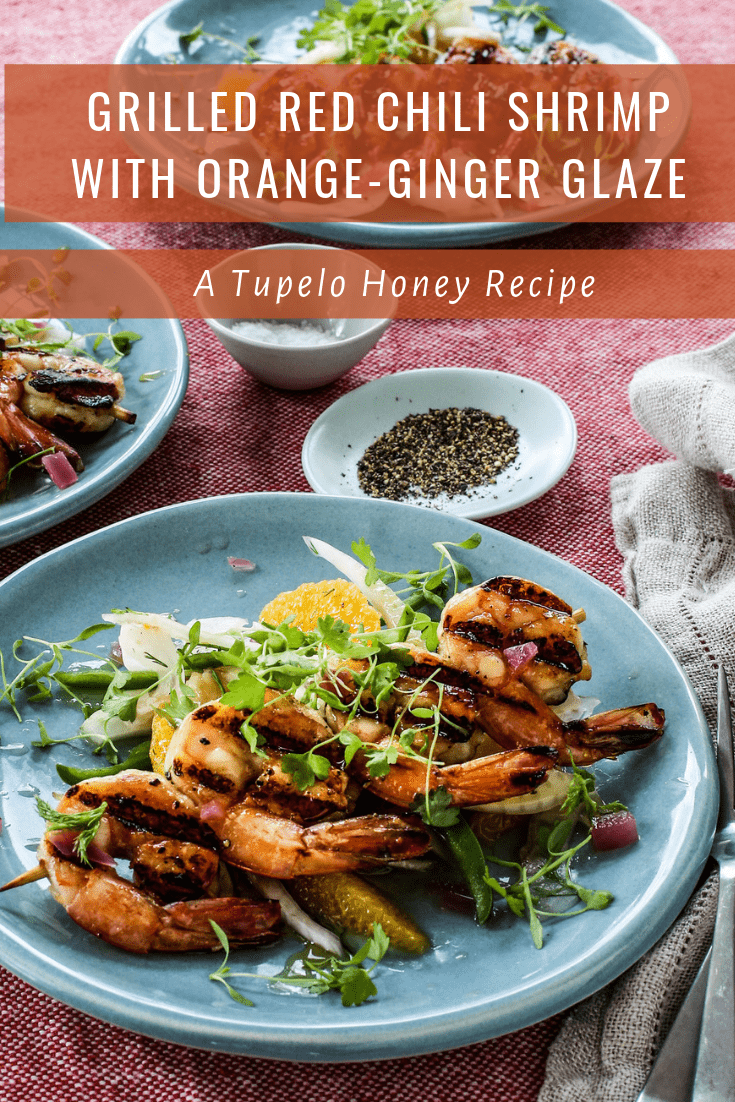 Ingredients
8 bamboo skewers
32 shrimp
1/4 cup canola oil
Pinch of kosher salt and freshly ground black pepper
2 cups Fennel-Orange Salad (recipe follows)
1 cup Orange-Ginger Glaze (recipe follows)
2 cups microgreens or sprouts of your choice
Fennel-Orange Salad
Makes 2 Cups
Ingredients
8 ounces fennel bulb, thinly sliced
1 tablespoon fennel fronds, chopped
1 orange segment (or 4-ounce can of mandarin oranges)
1/4 cup Pickled Red Onions, chopped
1/2 jalapeno, seeded and thinly sliced
1 teaspoon kosher salt
1/4 teaspoon freshly ground black pepper
1 teaspoon sugar
1/4 cup cider vinegar
Orange-Ginger Glaze
Makes 1.5 Cups
Ingredients
1.25 cups freshly squeezed orange juice
2 tablespoons honey
2 tablespoons light brown sugar
1.5 teaspoons cherry peppers (fresh seeded jalapeno can be substituted)
1.5 teaspoons peach jam (or any fruit jam)
2 teaspoons fresh ginger, peeled and cut into 1/4-inch coins
Grilled Red Chili Shrimp
Impress your family and friends with this sweet & spicy grilled shrimp dish served with a citrus-and-fennel salad! The fruity flavors and hint of ginger and heat are a winning combination.
Makes 8 Servings
KEEP READING
Directions
Soak the bamboo skewers in water for 10 to 15 minutes ahead of time.
Prepare a grill to medium-high. Place 4 shrimp on each skewer. Lightly oil the shrimp and sprinkle with salt and pepper. Place the shrimp on the grill and cook for 3 to 4 minutes on one side. Flip them over and continue cooking for another 2 minutes, then remove from the grill.
Place 1/4 cup fennel salad on each plate, place the shrimp skewer on the salad, and drizzle with the Orange-Ginger Glaze. Top each with 1/4 cup of microgreens and serve.
Fennel-Orange Salad
Directions
To make the salad, gently mix all the ingredients together in a large bowl. Adjust the seasoning as needed. Refrigerate until ready to serve.
Orange-Ginger Glaze
Directions
To make the glaze, place all the ingredients in a large saucepan over medium-high heat and whisk together. Bring to a boil, then decrease the heat to a simmer. Continue cooking until reduced by half, stirring occasionally. When it resembles a syrupy glaze, remove from the heat and strain out the ginger. Keep warm over low heat until ready to use. Will keep refrigerated for up to 1 week.
Want the reward without the effort? Make a reservation to visit your favorite Tupelo Honey location!