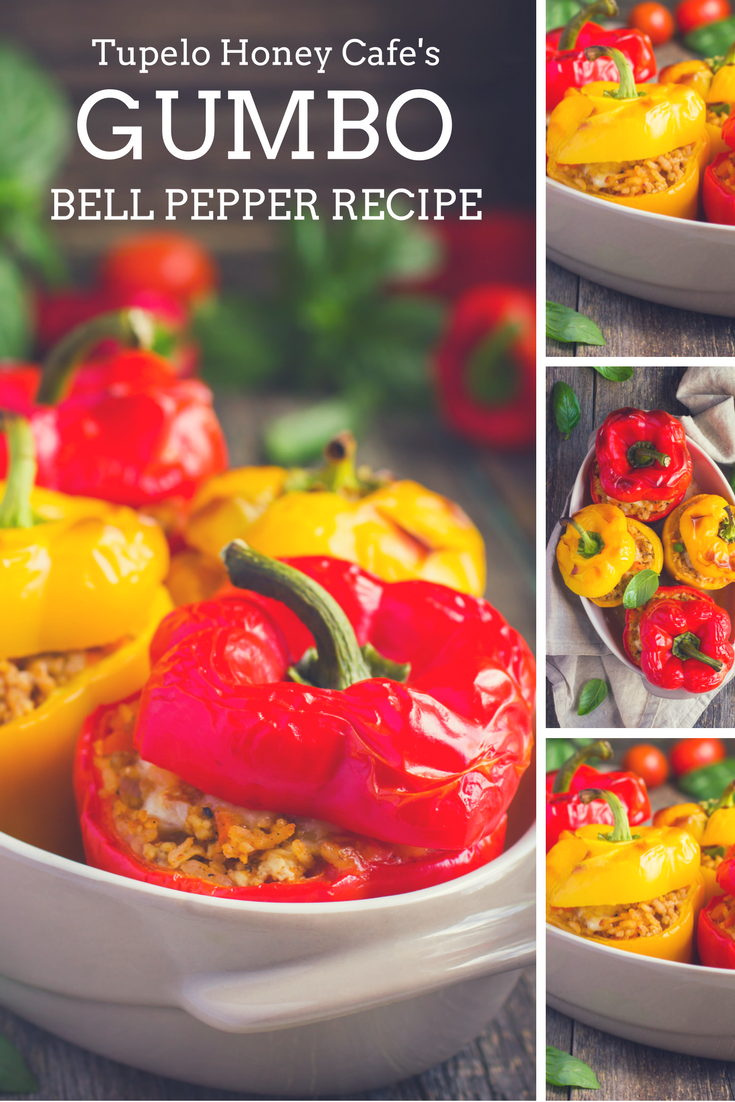 Gumbo Bell Peppers with Corn, Peas, Spinach & Okra
Ingredients:
3 Tbsp. olive oil
1 cup diced onion
3/4 cup sliced celery
1 cup sliced fresh or frozen okra
3/4 cup fresh or frozen corn
1/2 cup fresh or frozen black-eyed, crowder or field peas
1.5 tsp. gumbo filé
3/4 tsp. no-salt Creole seasoning
1/4 tsp. salt
1/4 tsp. freshly ground black pepper
3/4 cup Arborio rice
1.5 cups water
1 cup vegetable broth
1/2 cup V8 juice
2 cups chopped fresh spinach
6 large red bell peppers
1/2 cup Tomato Curry Broth (recipe below)
Tomato Curry Broth
Ingredients:
1 cup V8 juice
1/2 cup vegetable broth
1/4 cup coconut milk
1/4 tsp. no-salt Creole seasoning
3/4 -1 tsp. curry powder
Gumbo Bell Peppers Recipe
Colder weather means gumbo weather, and this vegetarian dish is sure to bring back the warmth right to your belly. It's an international miracle, marrying a hint of Louisiana spice with a little bit of Indian curry. And a great way to enjoy fresh vegetables right out of the garden. Just add a loaf of crusty bread so you can soak up every bit of this scrumptious broth.
KEEP READING
Gumbo Bell Peppers with Corn, Peas, Spinach & Okra
Directions:
1. To a large skillet over medium-high heat, add the olive oil and then the onion and celery and sauté for 5 minutes, or until tender. Add the okra, corn, peas, filé powder, Creole seasoning, salt and pepper and cook, stirring, for 2 minutes. Stir in the rice and add the water, broth and V8 juice. Bring to a boil and then lower the heat to medium-low and simmer until the rice is al dente and the mixture is creamy, stirring often, about 25 minutes. Stir in the spinach, remove from the heat and let cool.
2. Preheat the oven to 350°F. Cut the stems off the peppers and remove the seeds and membranes. Fill the peppers with the risotto mixture. Stand the peppers up in a baking dish just large enough to hold them. Spoon the Curry Tomato Broth around the peppers. Cover with foil and bake for 40 minutes, or until the peppers are tender. Place each pepper in a shallow bowl and spoon the juices and broth other the pepper. Serve immediately.
*Makes 6 servings.
Tomato Curry Broth
Directions:
Combine the V8 juice, vegetable broth, coconut milk, Creole seasoning and curry powder. Store in an airtight container in the refrigerator for up to 1 week.
*Makes 1 & 3/4 cups.
Not in the mood to cook but still craving scratch-made Southern fare? Make a reservation and come on in to the Tupelo Honey nearest you to try our Chef Specialties!