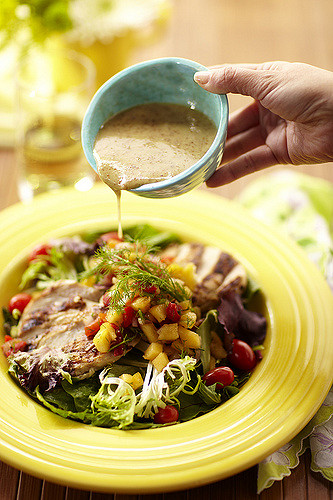 Ingredients
1 (6 oz.) boneless, skinless chicken breast
1 cup Tupelo Honey Chicken Marinade (see recipe below)
Seasonal fresh salad greens
1/2 cup Peach Fennel Salsa (see recipe below)
Pecan Vinaigrette (see recipe below)
Tupelo Honey Chicken Marinade
Ingredients
1.5 cups pineapple juice
2/3 cup olive oil
2/3 cup soy sauce
4 cloves garlic, finely chopped
2 Tbsp. finely minced fresh ginger (from 4-inch piece ginger)
Peach Fennel Salsa
Ingredients
1/2 cup diced fresh fennel (bulb, stalk, feathery leaves, and tough outer layer discarded)
2 cups peeled and diced peaches (about 4 large peaches)
1 cup diced roasted red bell pepper
1/2 cup diced red onion
4 tsp. roasted garlic oil (Recipe here, at bottom)
1/8 tsp. sea salt
1/8 tsp. freshly ground black pepper
Pecan Vinaigrette
Ingredients
1/4 cup pecans
1/4 cup cider vinegar
1 clove garlic, minced
2.5 tsp. Dijon mustard
2.5 tsp. whole-grain mustard
1 Tbsp. plus 1.5 tsp. tupelo honey
2 tsp. sugar
1 tsp. sea salt
1 tsp. freshly ground black pepper
1 cup canola oil
1/4 cup extra-virgin olive oil
Peachy Grilled Chicken Salad with Pecan Vinaigrette Recipe
With crisp greens, tender chicken and scratch-made dressing, this summery salad recipe is just "peachy" all-around! We suggest using fresh peaches, but you can mix up a batch of our peach salsa with frozen peaches if fresh aren't available.
KEEP READING
Directions
Marinate the chicken breast in the marinade in a sealable plastic bag or covered container overnight in the refrigerator. Remove the chicken, discarding the marinade, and grill or cook in a cast-iron skillet over high heat for 3-4 minutes on each side, until the chicken is tender and no longer pink in the middle. Transfer the chicken to a cutting board and slice thinly. Place the salad greens on a plate, top with the chicken slices and salsa. Serve with the vinaigrette.
*Makes 1 serving.
Tupelo Honey Chicken Marinade
Directions
Combine all the ingredients in a medium bowl using a wire whisk. Refrigerate in an airtight container for 3-4 weeks.
*Makes about 2 cups
Peach Fennel Salsa
Directions
Combine fennel, peaches, bell peppers, onion, garlic oil, salt and pepper in a large bowl. Refrigerate in an airtight container for at least 30 minutes. The salsa can be kept refrigerated for 2 days.
*Makes about 2.5 cups
Pecan Vinaigrette
Directions
Roast the pecans on a rimmed sheet pan in a 350°F oven for about 20 minutes or until the pecans are roasted or slightly browned. Remove, cool, and grind in a food processor until the mixture resembles coarse cornmeal. Transfer the pecans to a small bowl. Puree the vinegar, garlic, Dijon mustard, whole-grain mustard, honey, sugar, salt and pepper in a food processor and while the machine is running, drizzle in the canola oil and olive oil. Remove and pour into a container. Stir in the ground pecans and serve. Store in an airtight container in the refrigerator for up to 30 days.
*Makes 2 cups
Craving some greens but don't feel like cooking? Stop in or make a reservation to dine at the Tupelo Honey nearest you to try our scrumptious entree salads!