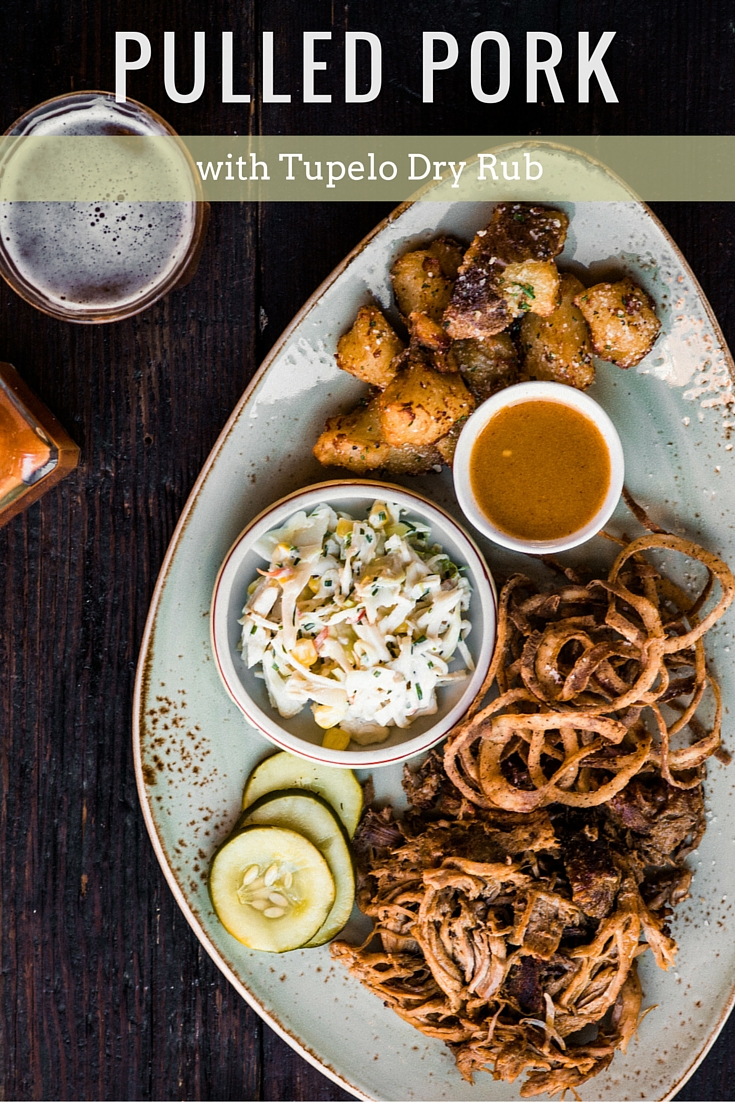 Ingredients
1 (10-pound) bone-in pork shoulder
1/2 cup Tupelo Dry Rub (see recipe below)
Tupelo Dry Rub
Ingredients
1/4 cup sugar
1/2 cup paprika
1/2 cup chili powder
1 tablespoon garlic powder
1 tablespoon onion powder
1 tablespoon dry mustard
1 tablespoon ground coriander
1 tablespoon ground cumin
1 tablespoon freshly ground white pepper
1 tablespoon freshly ground black pepper
1 teaspoon cayenne pepper
1 tablespoon salt
Pulled Pork with Tupelo Dry Rub Recipe
In North Carolina, pork pitmasters are respected and honored in every way. And whether they mop their sauce, use dry rub, or smoke their pork over a hickory wood-filled trench, every producer of barbecue has his or her own proven method. Each pitmaster (and 'cue-eater) also has a preference for the manner in which it is served: To chop? To shred? Or to pull? Our vote is for pulled, because we love the juicy, chunky hunks of porcine perfection. Enjoy with or without our Basic Barbecue Sauce!
KEEP READING
Directions
Preheat the oven to 300°F. Coat the pork shoulder with the dry rub and place it in a large, deep roasting pan, fat side up. Cover with foil and and roast for 6 hours. Uncover and continue roasting until the meat falls off the bone when you twist a long meat fork into it, about 3 more hours. When the pork is cool enough to handle, transfer it to another pan and pour the pan juices into a large bowl. Skim off the fat and set the pan juices aside.
Using 2 forks or your hands, pull the pork meat into shredded pieces and discard the fat and bones. Combine the pork with the reserved broth and mix well. Store in airtight containers in the refrigerator or freezer for up to 1 month.
*Makes 5 pounds.
Basic Barbecue Sauce
Ingredients
1/2 cup firmly packed light brown sugar
1/2 cup diced Vidalia onion
2 tablespoons roasted garlic puree (see recipe here)
1/2 cup cider vinegar
2 tablespoons Worcestershire sauce
2 cups ketchup
1 teaspoon hot pepper sauce
1/2 cup sorghum molasses
1 teaspoon freshly squeezed lemon juice
1 teaspoon sea salt
2 smoked jalapeño peppers, left whole (see recipe here)
1 teaspoon freshly ground black pepper
1/2 cup root beer
1 teaspoon chili powder
1 teaspoon ground cumin
1 teaspoon ground coriander
1 teaspoon dry mustard
Directions
Combine all the ingredients in a heavy saucepan or pot and bring to a boil over high heat. Reduce the heat to low and simmer for about 30 minutes, or until reduced by one-fourth. Allow to cool. Puree the sauce in a food processor before use. Refrigerate in an airtight container for up to 1 week.
*Makes 4 cups
Don't consider yourself enough of a pitmaster to try this at home? Stop in or make a reservation to dine at the Tupelo Honey nearest you. Our Cackalackie Pulled Pork, High on the Hog, and our Peach Poblano Pork Ribs are waiting for you!
Tupelo Dry Rub
Directions
Combine the sugar and all of the spices in a medium bowl, stirring with a whisk until well blended. Store in an airtight container in a cool, dry place for up to 1 month.
*Makes 1 1/2 cups.