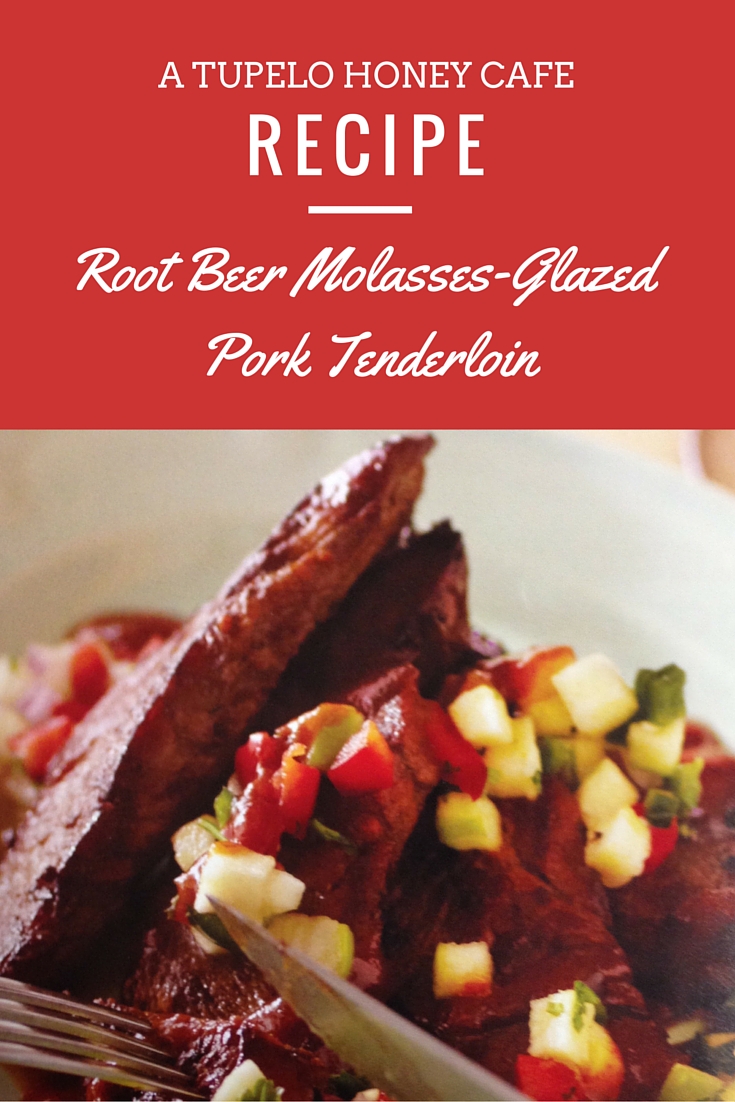 Ingredients
1 pork tenderloin (about 1 pound)
12 ounces root beer
1/2 cup molasses
1 tablespoon canola oil
1/2 cup Smoked Jalapeño Sauce (see recipe below)
2 cups Apple Salsa (see recipe below)
Jalapeño Sauce Recipe
Ingredients
1 large jalapeño, smoked
1/4 cup orange marmalade
1/3 cup tupelo honey
1/2 cup orange juice
1/2 V8 juice
1 & 1/2 teaspoons chili powder
1 & 1/2 teaspoons ground cumin
1 & 1/2 teaspoons roasted garlic puree
3/4 teaspoon ground coriander
1/8 teaspoon sea salt
1 & 1/2 teaspoons cornstarch
1 tablespoon water
3 tablespoons freshly squeezed lime juice
1 & 1/2 teaspoons minced fresh cilantro
Apple Salsa Recipe
Ingredients
2 Granny Smith apples, diced
1 medium poblano pepper, seeded and diced
1 large red bell pepper, seeded and diced
1/2 large sweet onion, diced
2 tablespoons tupelo honey
1/8 teaspoon sea salt
1/8 teaspoon freshly ground black pepper
1 tablespoon minced fresh parsley
Root Beer Molasses-Glazed Pork Tenderloin Recipe
Your taste buds may never be the same after this explosion of flavors. You palate will thank you for stocking your larder, and family and friends will be hypnotically lured into your kitchen as your finish this entree with a touch of jalapeño heat and tart apple. This root beer's promise of sassafras plus the mellow taste of molasses equals an Appalachian mountain kiss!
KEEP READING
Directions
Cut the tenderloin diagonally into 1-inch thick slices and set aside. In a medium bowl, combine the root beer and molasses, mixing thoroughly. Pour over the pork loin. Cover and marinate for at least 1 hour. Heat the canola oil in a large heavy skillet over high heat until the oil is 350º F on a deep-fat thermometer. Drain and discard the liquid from the pork and place the pork slices in the hot oil, searing for about 3 minutes on each side, or until cooked to medium. Serve immediately drizzled with the jalapeño sauce and topped with the salsa.
*Makes 4 servings.
Jalapeño Sauce Recipe
Directions
Combine the smoked jalapeño, marmalade, honey, orange juice, V8 juice, chili powder, cumin, garlic puree, coriander, and salt in a large saucepan and bring to a boil over high heat. Combine the cornstarch and water in a small bowl and stir thoroughly. Decrease the heat to medium and add the cornstarch mixture to the saucepan with a whisk. Cook for 2 minutes, decrease the heat to low, and cook for about 5 minutes longer, or until the mixture coats the back of a spoon. Remove from the heat and strain the sauce through a fine-mesh sieve. Puree the cooked jalapeño in a food processor and add back to the sauce. Add the lime juice and cilantro. Refrigerate in an airtight container for up to 3 weeks.
*Makes 1 & 1/2 cups.
Apple Salsa Recipe
Directions
Combine the apples, poblano pepper, bell pepper and onion in a large bowl and add the honey, salt, pepper, and parsley. Serve immediately or refrigerate in an airtight container for up to 2 days.
*Makes 3 cups.