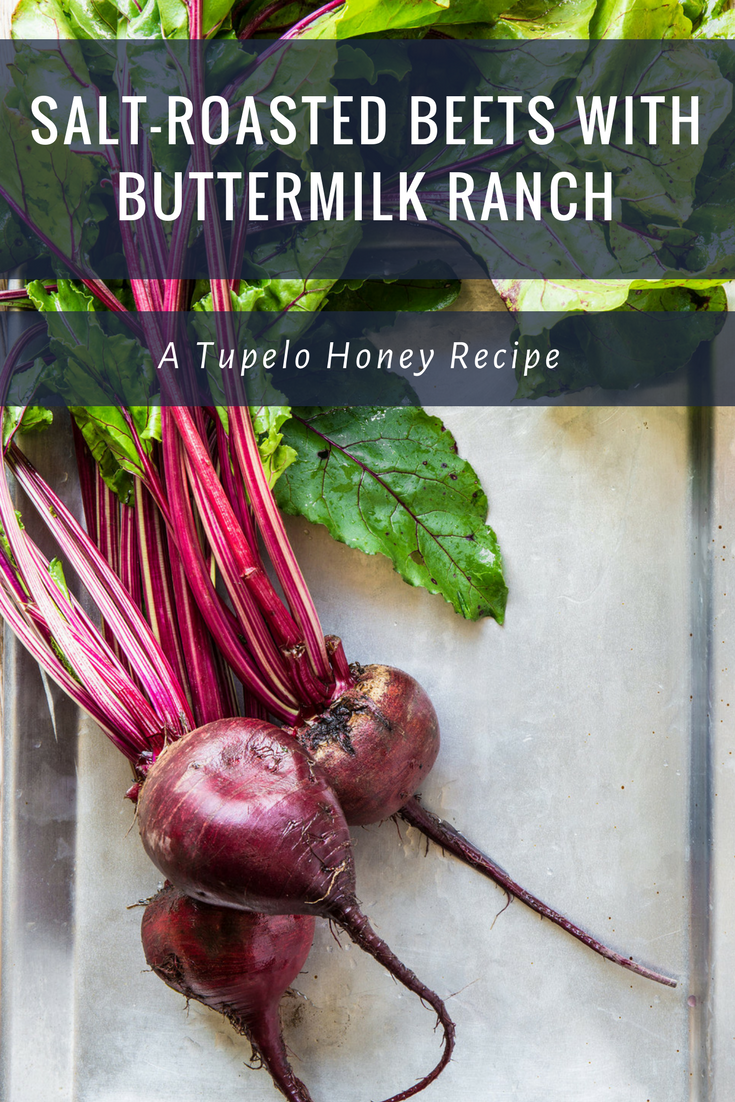 Salt-Roasted Beets
Makes 6-8 Servings
Ingredients
4 whole large beets (roughly 1 pound), tops removed
1/4 cup canola oil
2 cups kosher salt (more may be needed depending on the size of the pan used), divided
Buttermilk ranch dressing (recipe follows)
Buttermilk Ranch Dressing
Makes 2 Cups
Ingredients
2/3 cup buttermilk
2/3 cup sour cream
2/3 cup mayonnaise
2 tablespoons chopped fresh parsley
2 tablespoons chopped fresh chives
1 clove garlic, minced
1/2 teaspoon sea salt
1/2 teaspoon freshly ground black pepper
Salt-Roasted Beets with Buttermilk Ranch
Even beet-haters love this recipe! The salt lends a complexity to the sweetness that arrives with roasting the noble beet, and a cool buttermilk ranch dressing provides the perfect flavor foil.
KEEP READING
Salt-Roasted Beets
Directions
To make the beets, preheat the oven to 400°F. Toss the beets in the oil and set aside. In a small baking pan, place 1 cup of the salt. Place the beets in the salted pan, making sure they are close but not touching one another. Use the remaining 1 cup of salt to cover the beets evenly. Cover the pan with aluminum foil and place it in the oven for 2 hours. Check the largest beet for tenderness by inserting a fork; if it is still firm, place the pan back in the oven for 10 to 15 minutes more. When all the beets are fork tender, let them cool while still in the salt, uncovered.
Once cool, remove the beets from the pan and brush off the salt. The skin should be soft enough to remove by hand, or you may use a vegetable peeler (make sure to do so on a non-porous surface, as beets have a tendency to stain). Refrigerate the beets or enjoy immediately with a side of buttermilk ranch dressing.
Buttermilk Ranch Dressing
Directions
To make the dressing, blend all ingredients in a food processor for 30 seconds. Refrigerate for up to 10 days in a sealed container.
Want the reward without the effort? Make a reservation at one of our Southern restaurant locations!