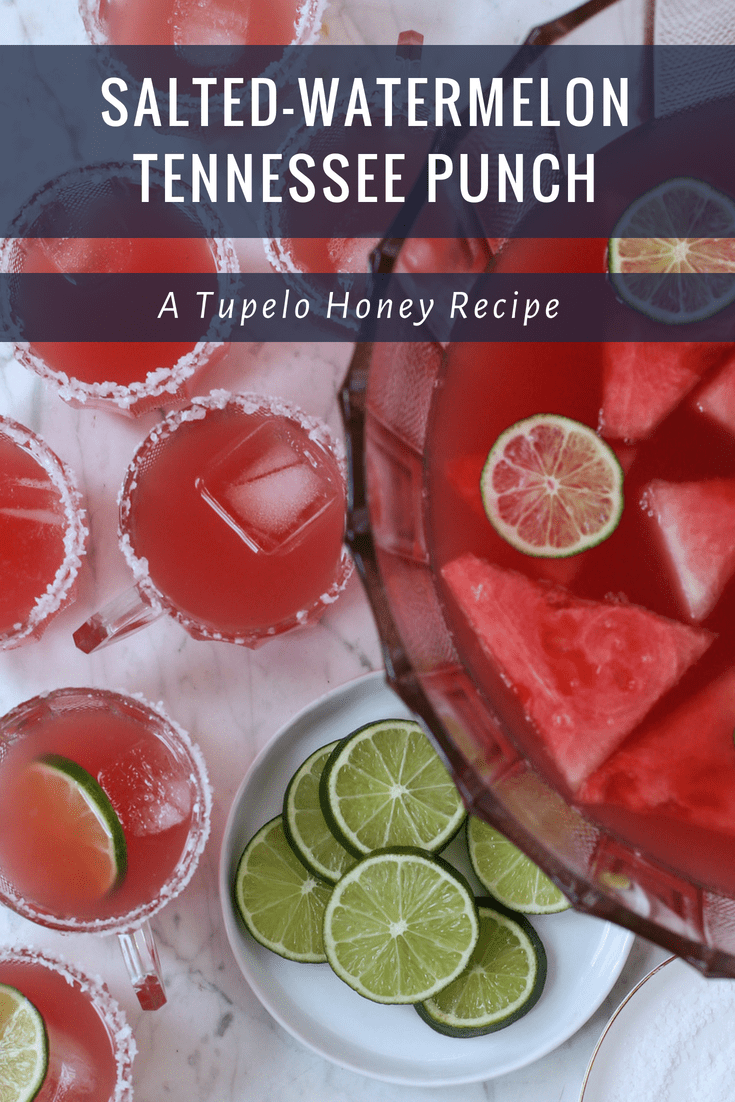 Salted-Watermelon Tennessee Punch
MAKES 1 GALLON
Ingredients
3 cups white whiskey (we prefer Popcorn Sutton)
1.5 cups elderflower liqueur (we prefer St. Germain)
7 cups watermelon juice (directions follow)
1 cup freshly squeezed lime juice
1 cup simple syrup (recipe follows), plus 1 to 2 ounces more for rimming glasses
4 tablespoons plum bitters (we prefer Fee Brothers)
Kosher salt
Fresh watermelon, for garnish
Fresh limes, for garnish
Watermelon Juice
MAKES ABOUT 7 CUPS
Ingredients
1 small, ripe seedless watermelon
Simple Syrup
MAKES 1 CUP
Ingredients
Salted-Watermelon Tennessee Punch Recipe
Like fresh tomatoes, a ripe watermelon is delicious right out of the garden with a saltshaker. Just slice it open and salt liberally before surrender. This libation plays off that familiar Southern combination of flavors – the sweet juiciness of the watermelon and the saltiness of a hot summer day – along with the whiskey-ness of Popcorn Sutton's moonshine.
KEEP READING
Salted-Watermelon Tennessee Punch
MAKES 1 GALLON
Directions
Combine the whiskey, liqueur, juices, 1 cup of simple syrup, and bitters in a gallon-size container and mix well. Refrigerate and store in an airtight container for at least 24 hours or up to 3 days.
Transfer the refrigerated liquid to a large punch bowl and garnish with fresh watermelon wedges and fresh lime wheels. To serve, pour 4 ounces over ice in a punch cup rimmed with the remaining simple syrup and kosher salt and garnish with fresh watermelon or a lime wheel.
Watermelon Juice
MAKES ABOUT 7 CUPS
Directions
Slice the melon in half, then slice the remaining melon again into eighths, and remove and discard the rind. Add the fruit to a blender and blend well. Strain the juice through a fine-mesh strainer. Store covered in the refrigerator for up to 1 week.
To serve, pour the contents into a punch bowl and serve over ice in glasses garnished with fresh mint and edible flowers.
Simple Syrup
MAKES 1 CUP
Directions
Place the sugar in a medium saucepan with 1/2 cup water and bring to a boil over medium heat. Stir until the sugar is dissolved, and remove from the heat. Store refrigerated and covered for up to 1 week.
Want the reward without the effort? Make a reservation at one of our Southern restaurant locations!