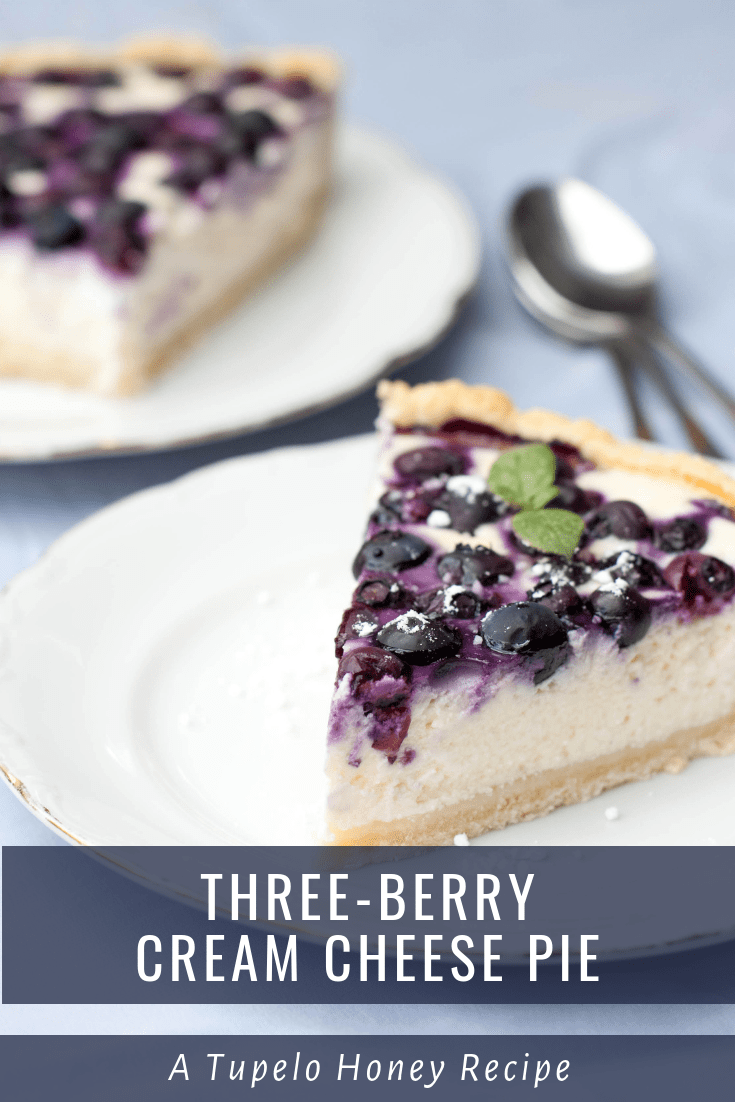 Ingredients
1 1/2 cup ground vanilla wafers (40 wafers)
4 tablespoons unsalted butter, melted
1 cup blueberries, fresh or frozen
1 cup blackberries, fresh or frozen
1 cup raspberries, fresh or frozen
1/2 cup plus 2 tablespoons sugar
1 tablespoon water
1 tablespoon cornstarch
2 (8-ounce) packages softened cream cheese
2 eggs
1 tablespoon vanilla extract
1/8 teaspoon sea salt
2 tablespoons heavy cream
Three-Berry Cream Cheese Pie
This is a fruity (and somewhat sneaky) cousin to the cheesecake, topped with the bountiful berries we have in our mountains (you can also use frozen berries).  It's quicker than the standard cheesecake recipe and we think it's equally scrumptious.  The pie needs to be refrigerated overnight before serving.
KEEP READING
Directions
Preheat the oven to 400 degrees Fahrenheit and lightly butter a 9-inch deep-dish pie dish. In a medium bowl, combine the vanilla wafers and melted butter and press the mixture into the baking dish, evenly covering the bottom and sides, and set aside. Combine blueberries, blackberries, raspberries, and 2 tablespoons of the sugar in a heavy saucepan. And place over high heat for 5 to 6 minutes, until the mixture is a thick sauce (if you use fresh berries, reduce the cooking time to 3 minutes). Combine the water and cornstarch and add the mixture to the berries, cooking for about 2 minutes longer, or until the mixture thickens slightly. Set the berry mixture aside.
Combine the cream cheese, the remaining 1/2 cup sugar, the eggs, vanilla, salt, and heavy cream in a food processor until fluffy, using a spatula to scrap the sides of the processor until all of the ingredients are thoroughly blended. Pour the cream mixture into the wafer crust and then pour the berry mixture on top of the cream filling. Bake for about 20 minutes, or until the pie is firm. Cool at room temperature for 30 minutes. Refrigerate overnight before serving.
*Makes 8 servings