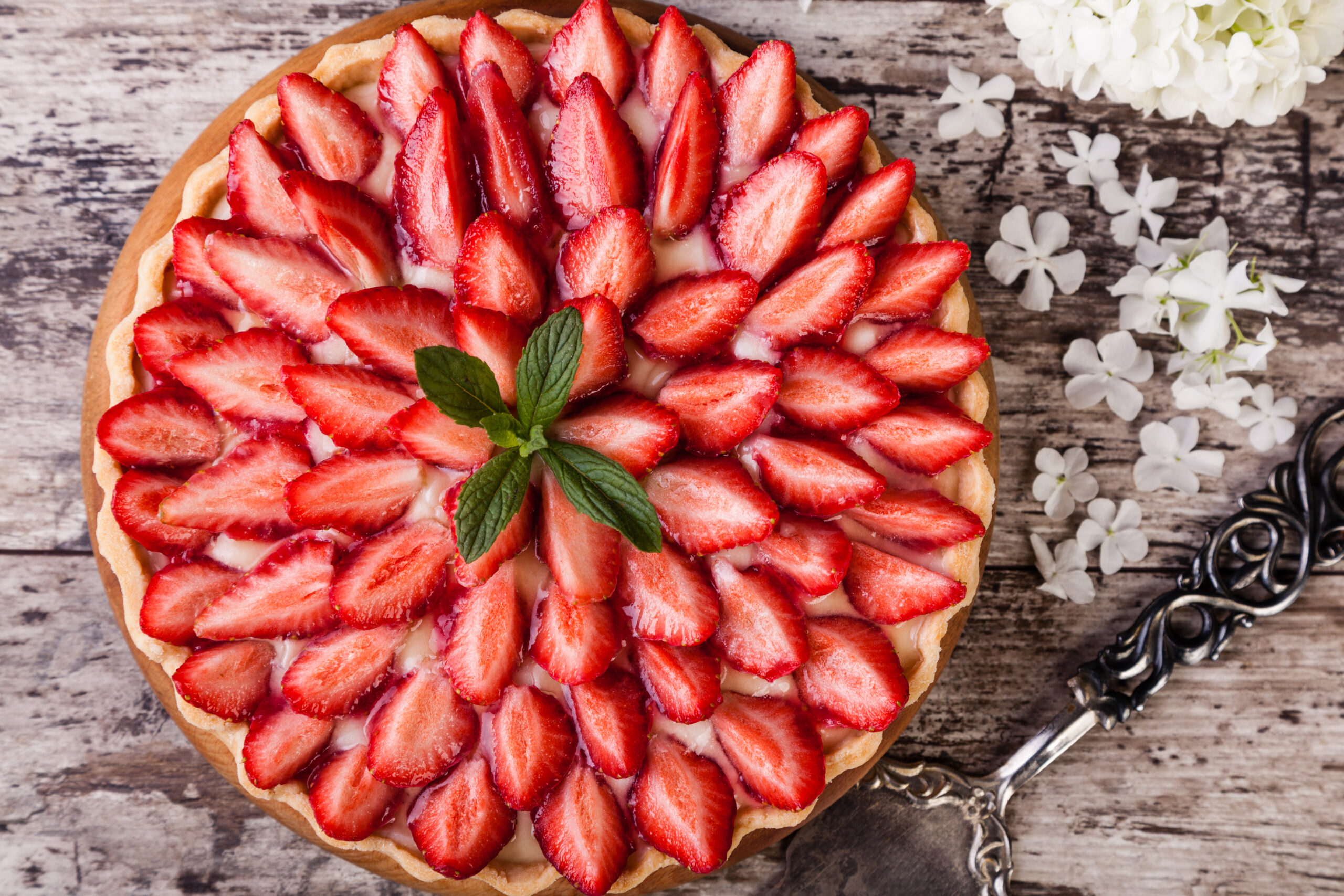 Crust
Ingredients
2 cups sliced almonds
1/2 cup sugar
2 tablespoons all-purpose flour
1/2 teaspoon vanilla extract
1/4 cup (1/2 stick) cold, unsalted butter, cubed
Filling
Ingredients
1/4 cup sugar
2 tablespoons cornstarch
3 tablespoons cold water
3 tablespoons apple juice
1 1/2 pounds strawberries, washed, stemmed and halved
Heavenly Buttery Almond Strawberry Tart
When strawberries are in season in the South, you can find them at roadside stands, tailgate markets, and farmers' markets. If you're energetically adventurous, you can even pick your own. However you're able to score these succulent sweet jewels, put this recipe on your to-do list. It respects and elevates the strawberry to its rightful throne as Queen of Fruits.
KEEP READING
Directions
Makes 1 (9-inch) tart.
Preheat the oven to 375°F. To make the crust, place the almonds, sugar, flour, and vanilla in a food processor, processing until the almonds are coarsely ground. Add the butter cubes and process for 6 seconds, or until the mixture clumps together. Press the mixture into the bottom and up the sides of a 9-inch glass pie plate and bake for 10 to 12 minutes, until golden brown. Remove the crust from the over and, if necessary, use the back of a spoon to press the mixture against the sides of the plate to re-form the crust. Let cool until firm.
For the filling, place the sugar and cornstarch in a medium saucepan and stir to combine. Stir in the water and apple juice until the mixture is smooth. Add the strawberries and stir to coat with the sugar mixture. Bring to a simmer and cook for 4 to 5 minutes over medium-high heat, stirring frequently, until the liquid is thickened and coats the berries.
While the filling is still warm, pour the strawberry filling into the prepared crust. Bake at 375°F for 25 minutes, or until the pie is set on top. Let cool on a wire rack for at least 1 hour and then refrigerate for 2 to 3 hours before serving.
Want the reward without the effort? Make a reservation at one of our Southern restaurant locations!