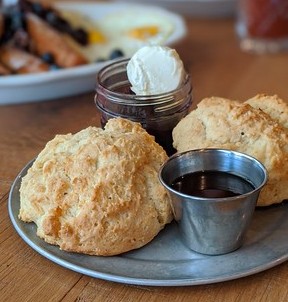 TUPELO HONEY CATHEAD BISCUITS
Ingredients
6 Tablespoons Butter, unsalted, melted
1.5 cups Buttermilk, cold
1 ¼ pounds Self-Rising Flour (about 4.5 cups)
2 Tablespoons Granulated Sugar
1 Tablespoon Kosher Salt
¾ teaspoon Lawry's seasoning salt
Cooking spray
1 teaspoon Salt
½ teaspoon Pepper
BLUEBERRY PRESERVES
Ingredients
1 cup sugar
4 cups fresh blueberries (about 1½ pounds)
1 Tablespoon freshly squeezed lemon juice
2 Tablespoon Cold water
3 Tablespoon Cornstarch
Cathead Buttermilk Biscuits with Blueberry Compote Recipe
A good biscuit is a staple of any Southern kitchen, and ours are some of the best! These biscuits are perfect under sausage gravy for breakfast, served on the side with some fried chicken, or (perhaps best of all) topped with our scratch-made blueberry compote for a delicious snack.
KEEP READING
Directions
Preheat the oven to 375 degrees F. Use cooking spray to lightly coat the baking sheet. Melt the butter in a small pot on the stove. Combine in a small mixing bowl with buttermilk. Whisk together.
Combine the flour, sugar, Lawry's and kosher salt in a large mixing bowl. Mix well to incorporate. Add the buttermilk and butter mixture to the flour mixture. Stir just enough so it clumps together and is no longer crumbly. Do not over mix.
Using a large spoon, scoop heaping spoonful of biscuit mix and place on a sheet pan. Leave space between for them to rise during baking. Mix remaining salt and pepper together and sprinkle a pinch over the top of each biscuit.
Cook on the top rack of the oven for 20-22 minutes or until light brown.
BLUEBERRY PRESERVES
Directions
Combine the blueberries and sugar in a medium saucepan and stir with a spoon to incorporate. Bring to a boil, reduce the heat to medium, and simmer for about 5 minutes.
Whisk together water, lemon juice and cornstarch in a small bowl to create a slurry. Turn the heat back up on blueberry mixture until it comes to a boil, add the slurry mixture and stir until jam has thickened about 2 – 3 minutes. The jam should coat the back of a spoon.
Allow to cool to room temperature before serving. Store in an airtight container for up to 10 days.
Want the reward without the effort? Make a reservation to join us at your favorite Tupelo Honey location!