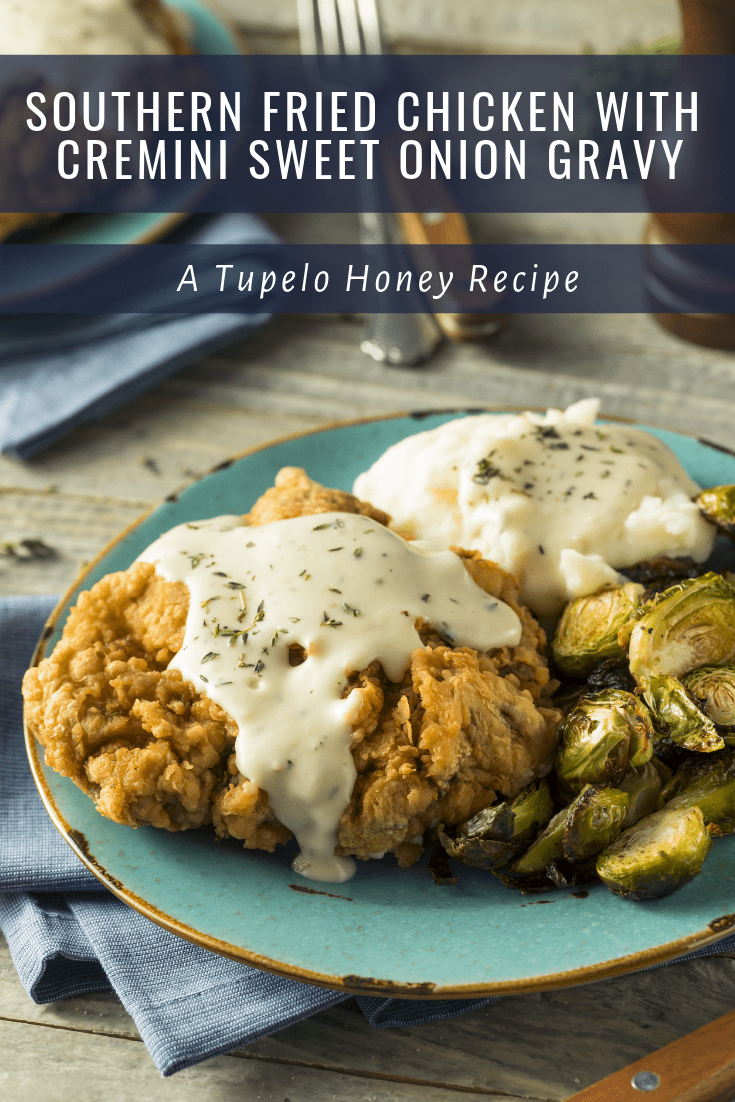 Ingredients
4 (6-ounce) boneless, skinless chicken breasts
2 cups buttermilk
2 cups canola oil
2 cups all-purpose flour
3 tablespoons cornstarch
1.5 teaspoons sea salt
1 teaspoon freshly ground black pepper
Cremini Sweet Onion Gravy (recipe follows)
Cremini Sweet Onion Gravy
Ingredients
1.5 cups cremini mushrooms, sliced thick
1 large Vidalia onion, thinly sliced
2 tablespoons olive oil
2 cups demi-glace
1/2 teaspoon sea salt
1/2 teaspoon freshly ground black pepper
Southern Fried Chicken with Cremini Gravy
Once reserved for the Sunday after-church dinner table, fried chicken is simply too good to hold out for the preacher. In Tupelo Honey vernacular, fried chicken is considered one of the major food groups. The cremini gravy adds just the right touch of gentility and sophistication!
MAKES 4 SERVINGS
KEEP READING
Directions
Marinate the chicken in the buttermilk overnight in the refrigerator. Place the canola oil in a cast-iron skillet over medium heat to 325°F or until the oil is bubbling. Combine the flour, cornstarch, salt, and pepper in a large bowl. Drain the chicken and discard the buttermilk. Dredge the chicken in the flour mixture until well coated. Fry the chicken in hot oil for 4 to 5 minutes per side, until golden brown. On each plate, ladle some gravy and place a chicken breast on top.
Cremini Sweet Onion Gravy
Directions
In a heavy saucepan, sauté the mushrooms and onion in olive oil over medium heat for about 7 minutes, or until the onion is translucent. Add the demi-glace and salt, bring to a boil, and then lower to a simmer. Leave uncovered and simmer for about 20 minutes, or until the liquid has reduced by about one-third. Add the pepper and serve immediately, or store in an airtight container in the refrigerator for up to 7 days. This may also be frozen for up to 6 months.
Want the reward without the effort? Make a reservation to come in and try our Southern-inspired favorites today!