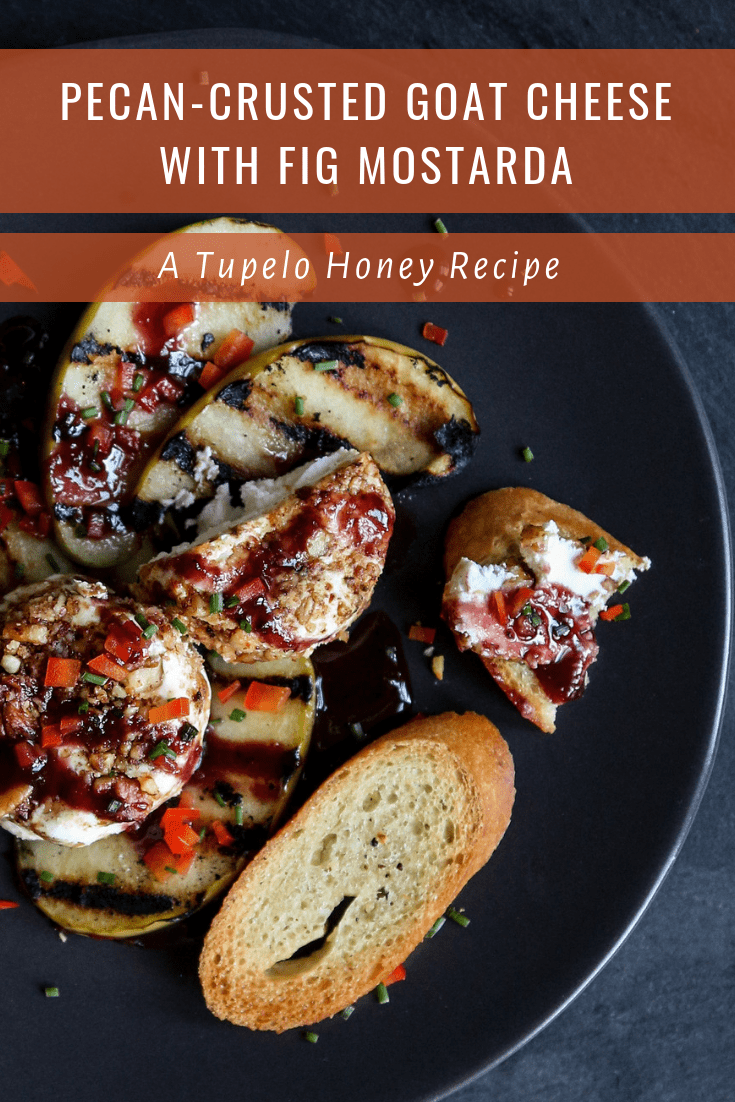 Fig Mostarda
Ingredients
1 ¼ cups dry red wine
1 bay leaf
¾ cup sugar
3 tablespoons whole-grain mustard
½ pound black mission figs, stemmed and cut in half lengthwise
1 tablespoon cider vinegar
Pecan Crusted Goat Cheese Medallions
Ingredients
1 ½ cups spiced pecans
1 ½ teaspoons honey
¼ teaspoon cayenne pepper
¼ teaspoon salt
1 ½ teaspoon unsalted butter
1 cup chopped pecans
12 ounces goat cheese
1 Granny Smith apple
2 tablespoons chopped chives, for garnish
2 tablespoons deseeded and small-diced red bell pepper, for garnish
16 Olive Oil Crostini, or store-bought, for serving
1 (16-inch) baguette
½ cup olive oil
1 clove garlic, chopped
½ teaspoon salt
½ teaspoon freshly ground black pepper
Pecan-Crusted Goat Cheese with Fig Mostarda
This is an excellent entertaining recipe for any holiday, but particularly in the late summer and early autumn when fresh figs are in season. It takes longer than putting onion soup mix in a tub of sour cream and calling it dip, but it's worth it. This is terrific with a Muscadine Cosmopolitan or a good Cabernet Sauvignon.
KEEP READING
Directions
Spiced Pecans (makes 1 cup): to make the pecans, mix the honey, cayenne, and salt in a bowl. Melt the butter in a skillet over medium-high heat. Add the honey mixture and the pecans and cook for 8 to 10 minutes, stirring often, until the pecans are lightly browned and caramelized. Remove from heat, and cool until ready to use. Store in an airtight container for up to 3 days.
Olive Oil Crostini (makes 24 pieces): to make the crostini, preheat the over to 400°F. Cut the baguette into twenty-four ¼-inch slices. Place the baguette slices on a rimmed sheet pan. In a bowl, mix together the olive oil and garlic. Brush or drizzle the garlic oil onto the baguette slices. Sprinkle each slice with salt and pepper and place in the over for 8 to 10 minutes, until lightly browned. Remove from the over, set aside, and cool. Store in an airtight container if you are not using them immediately. Will keep up to 1 day, but best used the day made.
Medallions: to make the mostarda, combine the wine, bay leaf, and sugar in a saucepan over medium heat. Bring to a boil, and cook for 10 minutes. Add the Dijon and whole-grain mustard and cook for 2 more minutes. Turn off the heat and stir in the black mission figs and cider vinegar. Let rest for 3 minutes. Remove the bay leaf and set aside until ready to serve.
To make the pecan-crusted goat cheese, pulse the spicy pecans in a food processor until uniform coarse pieces form. Remove the crushed pecans to a bowl.
Mold the goat cheese into 8 round medallions. Coat each goat cheese medallion evenly with the crushed pecans, pressing them firmly into place. Set aside until ready to serve.
To prepare the rest of the dish, cut the apple into ¼-inch slices. Place the slices on a hot grill and cook for 1 minute on each side. Remove and let cool.
Preheat the oven to 200°F. Place the pecan-crusted goat cheese medallions on a baking tray and heat them in the oven for 1 to 2 minutes.
Place 4 grilled apple slices in the center of each of the four plates, lay 2 medallions on top of the apple slices, and top each medallion with a tablespoon of the fig mostarda. Garnish with the chives and red pepper. Serve with plenty of crostini.