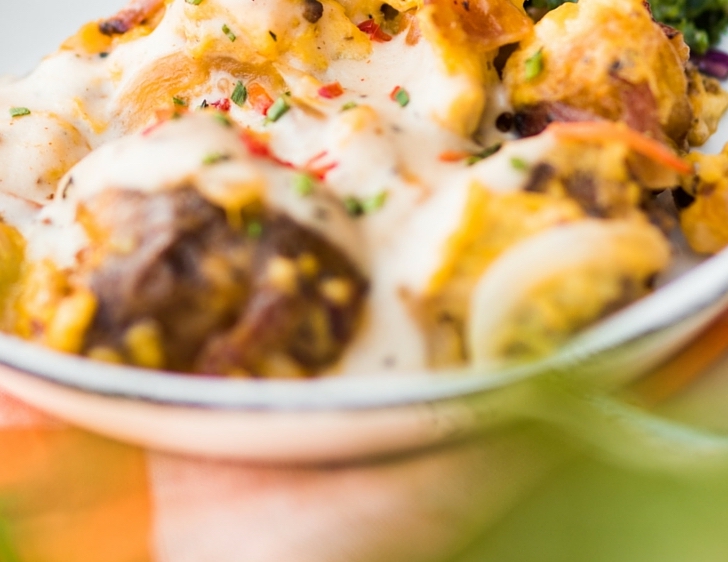 Ingredients
18 new potatoes
2 tablespoons olive oil
1 cup diced onion
1/4 teaspoon salt
1/4 teaspoon freshly ground black pepper
2.5 cups Double Sausage Gravy (recipe below)
1/2 cup cooked, crumbled bacon
1.5 cups shredded cheddar hoop cheese (6 oz.)
3 tablespoons minced fresh chives
3 tablespoons minced fresh parsley
3 eggs (optional), for cooking sunny-side up
Southern Poutine Recipe
What do Canadians know that we Southerners don't? Quebecers lay claim to poutine as something of a national dish, but potatoes and sausage gravy or biscuits and sausage gravy have been around the South for centuries. The addition of cheddar hoop cheese and – optionally – a sunny-side up egg on top make this a real meal.
KEEP READING
Instructions
Makes 3 Servings
Cook the potatoes in boiling water for 20 minutes, drain, and place them in ice water to cool. Cut the potatoes into quarters. Add the oil to the a skillet over medium-high heat, add the potatoes, and cook for 4-5 minutes, stirring often, until they start to brown. Add the onion and season with salt and pepper and cook for another 3-4 minutes, until well browned.
Preheat the oven broiler. To serve, spoon the potato mixture on a platter and cover with the Double Sausage Gravy, crumbled bacon and cheese. Cook under a broiler for 1-2 minutes, until the cheese is melted and bubbly. Sprinkle with the chives and parsley. If desired, top each serving with a fried egg.
---
Double Sausage Gravy Recipe
8 oz. good pork breakfast sausage
2 teaspoons unsalted butter
3 tablespoons all-purpose flour
3 cups half-and-half
1/2 teaspoon salt
1/2 teaspoon freshly ground black pepper
Instructions
Makes 3 to 3.5 cups Servings
Cook the sausage in a skillet over medium heat until browned, 8 to 10 minutes, stirring frequently to crumble. Add the butter to the skillet, stirring until the butter is melted. Add the flour and cook for 4-5 minutes, stirring constantly. Stir the half-and-half into the sausage mixture and cook, stirring, for 8-10 minutes, until thickened and bubbly. Add the salt and pepper, stir and serve.