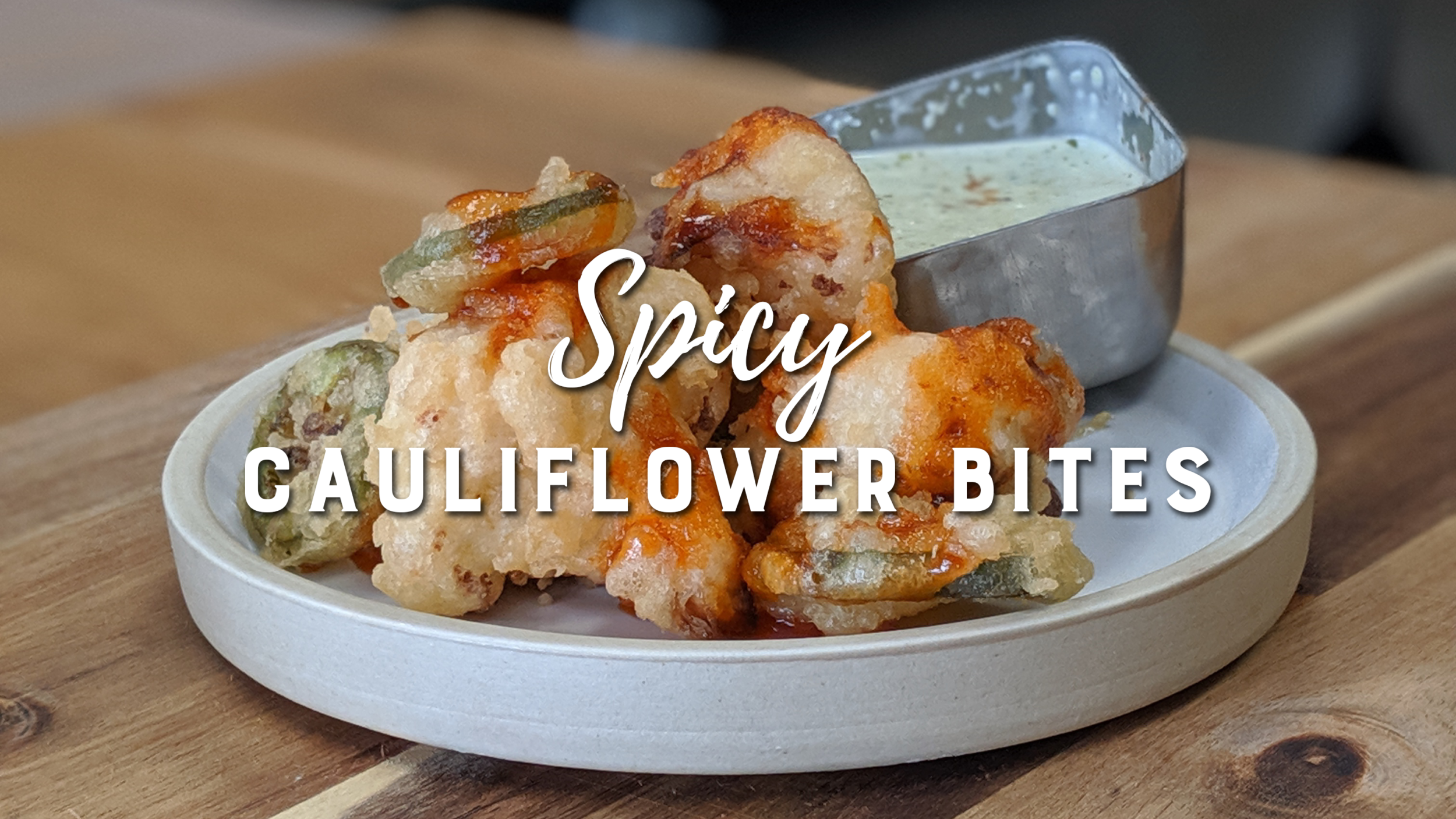 Ingredients
6 oz cauliflower florets
1 jalapeño, thinly sliced
1 cup flour
1 cup cornstarch
1 tsp baking powder
1 tsp salt
1 egg
12 oz beer of choice (we prefer a lager)
1 tbsp sriracha
1 tbsp honey
Sprinkle of salt & pepper
Frying oil (canola, vegetable, etc.)
Green Tomato Aioli
Serves: 4
Ingredients:
1 1/4 cups Green Tomatoes
3/4 cups Cilantro
1/2 cup Jalapeño
1/4 cup Poblano Pepper
2 tbsp Red Onion
1 1/2 tsp Garlic
2 tbsp Lime juice
2 tbsp Oil
2 1/4 tsp Kosher Salt
3/4 tsp Black Pepper
1/4 tsp Cayenne Pepper
1 cup Mayonnaise
Spicy Cauliflower Bites
Our scratch-made Spicy Cauliflower Bites are the perfect #gameday (or any day) snack! Who knew vegetables could be so fun to eat? Make them for your next tailgate party with just a few simple ingredients.
Serves: 4, makes 3 cups
KEEP READING
Directions
Heat the oil over medium on the stove top. Combine the flour, cornstarch, baking powder, salt, egg, and beer into a large mixing bowl. Whisk to combine. Coat the cauliflower and jalapeño slices in the beer batter. Fry until golden brown and crispy. While hot, sprinkle with salt and pepper.
Stir together the honey and the sriracha, then drizzle over the cauliflower and jalapeños.
Serve hot with a side of your favorite dipping sauce or dressing, like our Garlic Buttermilk Ranch!
Green Tomato Aioli
Serves: 4
Directions
Blend all ingredients, except the mayonnaise, with a food processor or immersion blender. It should be a relish consistency.
Combine with mayonnaise and store in refrigerator.
Dunk & enjoy!