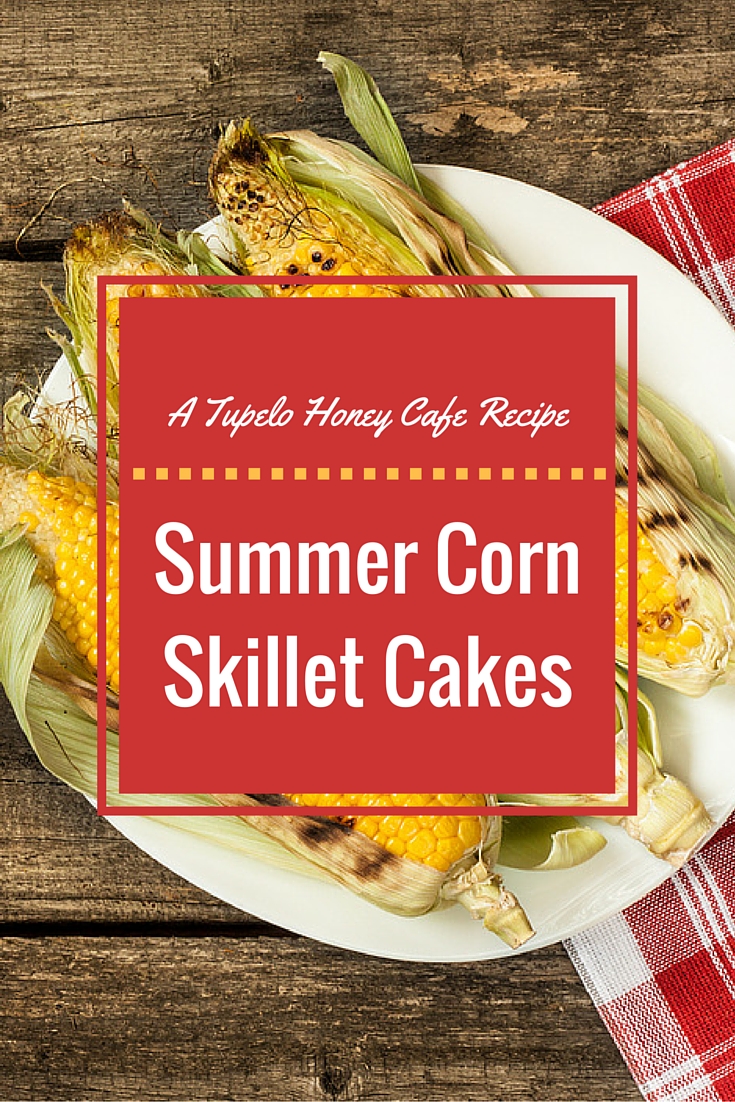 Ingredients
2 tablespoons unsalted butter
2 cups corn kernels, cut from Roasted Corn on the Cob (see recipe below)
1 egg
2 tablespoons buttermilk
1/8 teaspoon Cholula Hot Sauce (or your favorite hot sauce)
3 tablespoons all-purpose flour
1/8 teaspoon baking soda
1/8 teaspoon salt
1/8 teaspoon freshly ground black pepper
Butter or bacon grease
Simple Salsa (see recipe below)
Roasted Corn on the Cob
Ingredients
3 ears yellow corn
1/8 teaspoon salt
1/8 teaspoon freshly ground black pepper
3 tablespoons olive oil
Simple Salsa
Ingredients
4 large ripe Roma tomatoes, seeded and chopped
1/3 jalapeño pepper, seeded and minced
2 tablespoons minced fresh cilantro
1 teaspoon freshly squeezed lemon juice
1/8 teaspoon salt
1/8 teaspoon freshly ground black pepper
Fresh cilantro sprigs
Summer Corn Skillet Cakes Recipe
The best Southern cooks save their bacon grease after cooking a rasher. You can often find a recycled coffee can or glass jar of leftover bacon grease in their cabinet, and if you do, you'll know you are in good hands. We highly recommend cooking these corn skillet cakes in a little melted bacon grease (we call it "vitamin G") if you can. Serve these with our Simple Salsa, or for a special treat, spoon a little sorghum on top.
KEEP READING
Directions
Melt the 2 tablespoons butter in a large, heavy skillet over medium heat.
Add the corn and cook, stirring frequently, until the corn is hot. Transfer the corn to a plate and let cool completely.
Whisk the egg, buttermilk, and hot sauce in a medium bowl. Add the corn and stir well. Add the flour, baking soda, salt, and pepper and stir until the ingredients are well mixed.
Heat the skillet over medium heat. Add 1 tablespoon butter or grease and allow it to melt. Working in batches, drop the batter by rounded tablespoons into the skillet and cook for 2 minutes per side, or until the cakes are browned. Add additional butter or grease to the skillet as necessary between the batches. Serve with Simple Salsa.
*Makes 14 2 1/2-inch cakes.
Roasted Corn on the Cob
Directions
Preheat the oven to 400°F. Sprinkle the corn with the salt and pepper. Heat the oil in a large, heavy ovenproof skillet over medium-high heat and add the corn. Cook for 3 to 4 minutes, turning frequently in the oil, until lightly browned. Transfer the skillet to the oven and cook the corn for 7 to 10 minutes, just until tender.
*Makes 2 to 2 1/4 cups
Simple Salsa
Directions
Combine three-quarters of the chopped tomatoes, the jalapeño pepper, minced cilantro, lemon juice, salt, and pepper in a bowl. Garnish with the remaining chopped tomatoes, and cilantro sprigs. Keep in an airtight container in the refrigerator for up to 7 days.
*Makes 1 cup
Don't have time to whip up our skillet cakes at home? Stop in or make a reservation to dine at the Tupelo Honey nearest you. Be sure to try our new Farm Fresh Sides like the Appalachian Corn Soufflé and Corn Jalapeño Slaw!